Rooms498 affordable rooms for single, couple family and group rooms!
Rooms498 offers affordable rooms for every one. here are the affordable rooms you can book!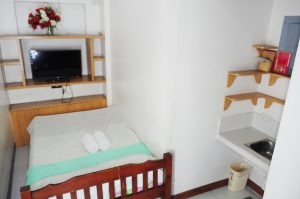 Standard Room 1                                                                                                    Standard Room 2
Fully Air Conditioned Rooms                                                                               Fully Air Conditioned Rooms
Good for 1 to 2 persons                                                                                         Good for 2 persons
With Personal kits                                                                                                  With personal kits
Php 998                                                                                                                    Php 1038
Family Rooms                                                                                                          Group Rooms
Fully Air Conditioned                                                                                              Fully Air conditioned
Good for 3 to 4 persons                                                                                         Good for 6 to 12 persons
With personal kit                                                                                                     With personal kit
Php 315 per head                                                                                                    Php 320 per head
You can book it thru online engines like Traveloka, Agoda, Expedia and More!
Everyone Deserves a clean, quiet and secured place!
Book now!
We also have "Videoke Rooms" and "Events and Party Venue"
Easy Access! We are located in the heart of Metro Manila so you will not have a hard time looking and going to this place!
A perfect place to stay!
Premises also has 24 cafeteria with various choices of filipino, chinese and western foods, it also has plenty of drinks!
24 Hours Security Guards and CCTV's for our clients safety and security!
24 Hours Reception to give our client assistance anytime of the day!
Free Parking Spaces for Clients who will stay!
Our place is located near malls, supermarkets and markets for convenience of our clients to get almost everything that they need!
Feel free to message us or call us if you have any questions or message us with your number and we will call you. We are glad to serve you!
We are located at
Rooms498 (Rooms for Rent)
498 Boni ave., Mandaluyong City
landline: 585 – 3558 / 405 – 0824
globe: 0917 – 825 – 0077
smart: 0919 – 991 – 7390
Viber: 0977 – 816 – 7490
Like and message us on facebook for faster and easier inquiry
Facebook Page: www.facebook.com/rooms498
Website: https://rooms498.com/ and www.roomsforrent.ph