Celebrate your special 18th birthday
with our affordable debut packages.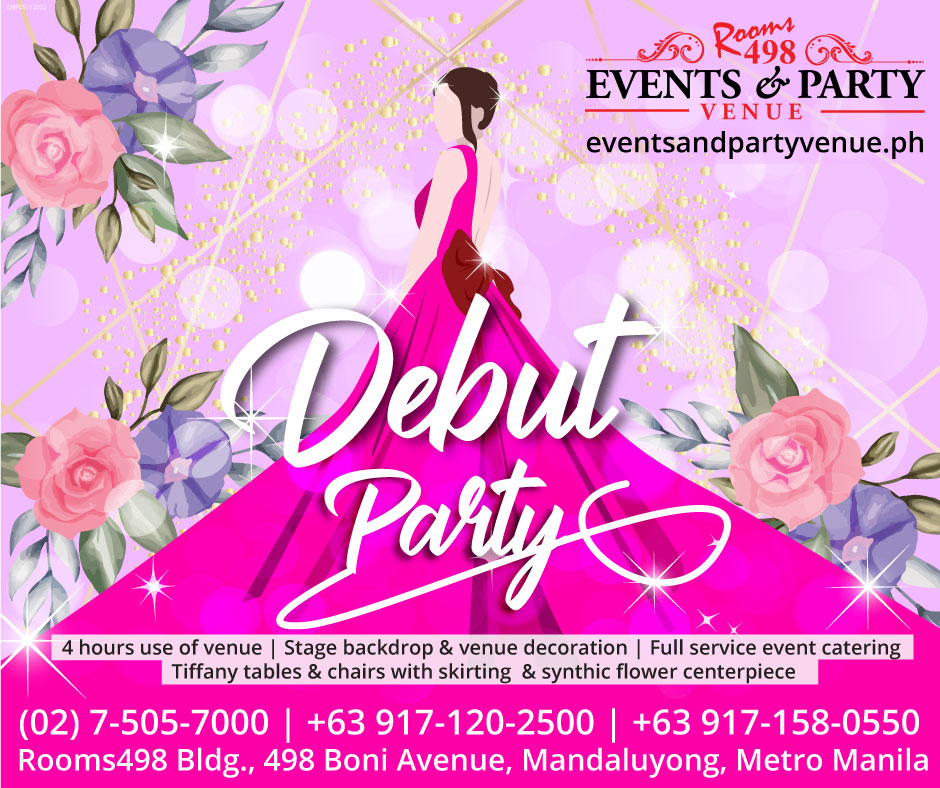 Rooms498 Events & Party Venue always make the event happen in a special way, something the debutante will treasure for the rest of her life. Try our competitive debut packages to a memorable 18th birthday.
Rooms498 offers a wide variety of packages with catering menu choices
Venue 4 hours

Tiffany Tables

Tiffany Chair with

Ribbons

Uniformed Waiters

Big Speakers

Flat Screen TV

Amplifier

DVD Flyer

Fully Air Conditioned

Disco Lights

Decorated Cake Table

Decorated Gift Table

Music Playlist
18 candles

18 Roses

Dessert Station

Chocolate Fountain w/ Mallows

Cupcakes & Candies

Centerpiece

Two Color Motif 

Venue & Stage

Decoration

Videoke w/ Projector

Balloon Decorations

Disco Lights

Sound System
Book Now!
Call: (02) 7 505-0021 | 0917-817-0001 | 0998-992-1988
Seminar Room * Seminar Room | Seminar Meeting Room | Seminar Training Rooms * Training Room | Training Facility * Workshops | Seminars & Workshops | Review Center * Meeting Room | Meeting Space | Meeting Room Facilities | Meeting Venue * Corporate Room Rentals | Corporate Function Space | Corporate Events * Conference Room | Conference Hall | Conference Facilities * Conference Function Space Hall | Plenary Sessions | Convention Space * Corporate Room Rentals Social Events & Banquet Hall * Reception Hall | Banquet Hall | Wedding Venue | Baptismal * Social Event | Social Events Hall | Fellowship Location | Fellowship and Retreat House * Dance and Fitness Studio Rental Function Rooms * Function Room | Hotel Function Rooms | Function Space | Function Hall * Room Rentals | Rooms for Rent | Transient Rooms * Seminar Rooms | Meeting Rooms | Function Rooms | Training Rooms * Overnight Party | Videoke Party | Videoke Overnight | Debut Party | Stag Party
Catering Services by The Red Brickhouse
For Other Updates and Promo
Visit us @rooms498 on Facebook, @rooms498@eventsvenue on Instagram 
Party Venue * Birthday Party | Children's Birthday Party * Party Venue | Party Room | Party Packages | Party Events * Events Room | Event Venue | Event Space | Events Place * Celebrations and Events | Celebrations Room | Celebrations Venue * Debut Party Venue | Stag Party Venue * Reunions | Batch Gatherings | Celebrations and Events * Balikbayan Gatherings | Balikbayan Party | Barkada Gatherings Christmas Party Venue * Christmas Party Events | Christmas Event Venue | Pasko Venue | Christmas Party Venue